Facility Usage and Cardiac Emergency Response Plan
Facilities Cardiac Emergency Response Plan
Dear Community Member,
We are pleased to announce that Caro Community Schools has implemented a new lifesaving Cardiac Emergency Response Plan.
The statistics are startling. In 2013, the American Heart Association reported 9,500 cases of out-of-hospital cardiac arrest in youths. What's more, across the United States, even the best emergency medical services (EMS) systems can't reach cardiac arrest victims for 3 to 5 minutes. Therefore, the actions taken by bystanders during the first few minutes of a cardiac emergency are critical. Prompt action can double or triple a victim's chance of survival.
It has been proven that a carefully coordinated response to cardiac emergencies will reduce death and disability in school settings and help ensure that chaos does not lead to an improper or no response.
How can you use A Cardiac Emergency Response Plan?
We have a written document that establishes specific steps to take in a cardiac emergency at school. If you are renting the facility outside school hours, you can orient your organization to the cardiac chain of survival, which entails having a plan of who is going to perform the steps below:
Recognize Sudden Cardiac Arrest (assume cardiac arrest in anyone who is collapsed and unresponsive )
Call 911
Retrieve an Automated External Defibrillator (AED) (location map of school AEDs attached)
Begin Hands-Only CPR (push hard and fast in center of the chest about 100 times a minute)
Direct EMS to the scene (member of your team is outside directing EMS to the cardiac arrest victim)
How can you be prepared?
As our school has taken the time to implement this plan, which includes educating our school community about sudden cardiac arrest, getting our cardiac emergency response team CPR trained, maintaining our AED(s) so they are ready to be utilized, and documenting and practice drilling our response plan, we recommend that your organization do likewise.
Every person associated with your organization can take 60 seconds to watch the free Hands-Only CPR video at www.heart.org/handsonlycpr. Or, you can locate and attend a classroom-based CPR and AED Course. Visit www.heart.org/cpr and click the red "Find a Course" button. Additionally Parent Heart Watch https://parentheartwatch.org/take-promise/ has free prevention resources.
In the event of a cardiac emergency, after implementing response protocol, please notify Caro Community Schools Central Office at 989-673-3160 for a post-event debrief.
Thank you for your support.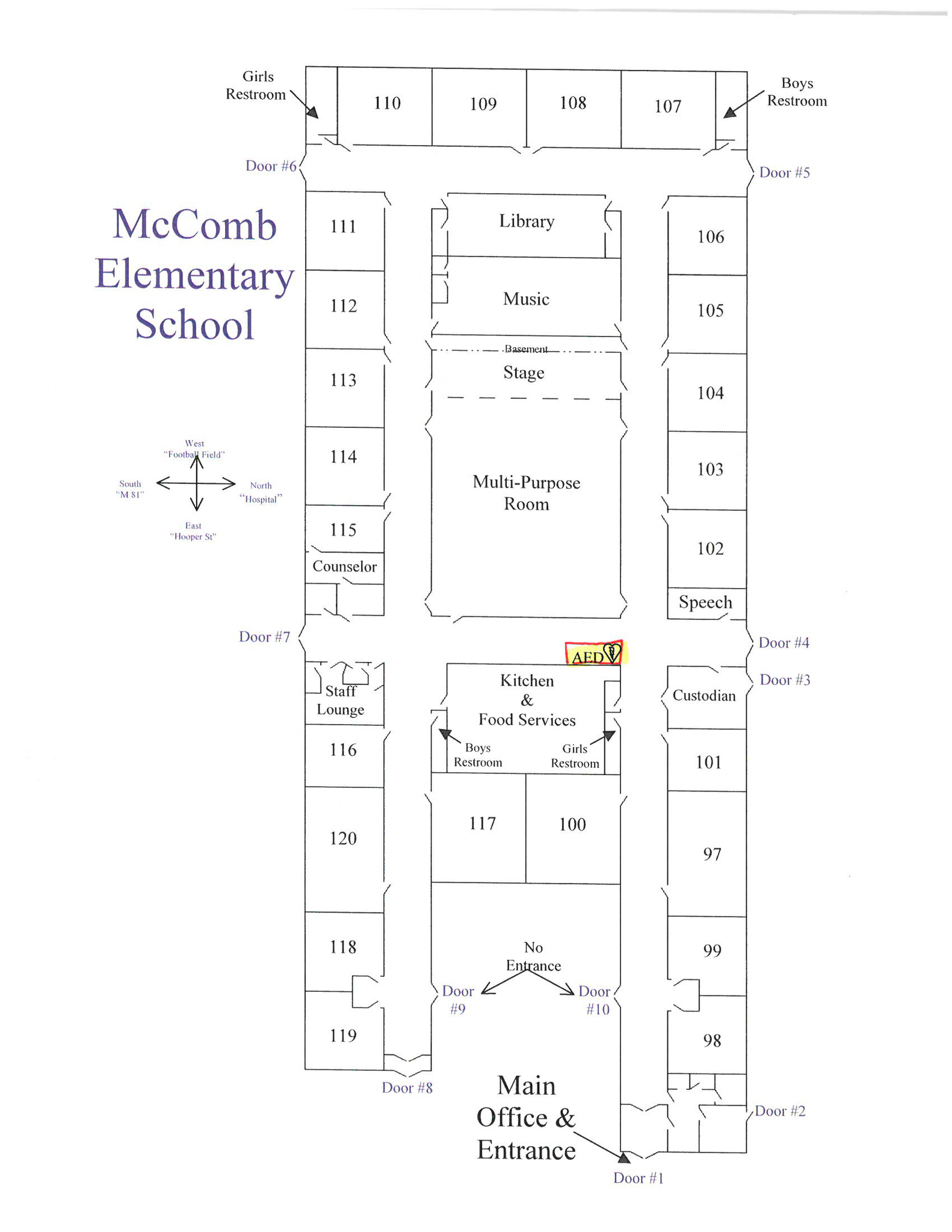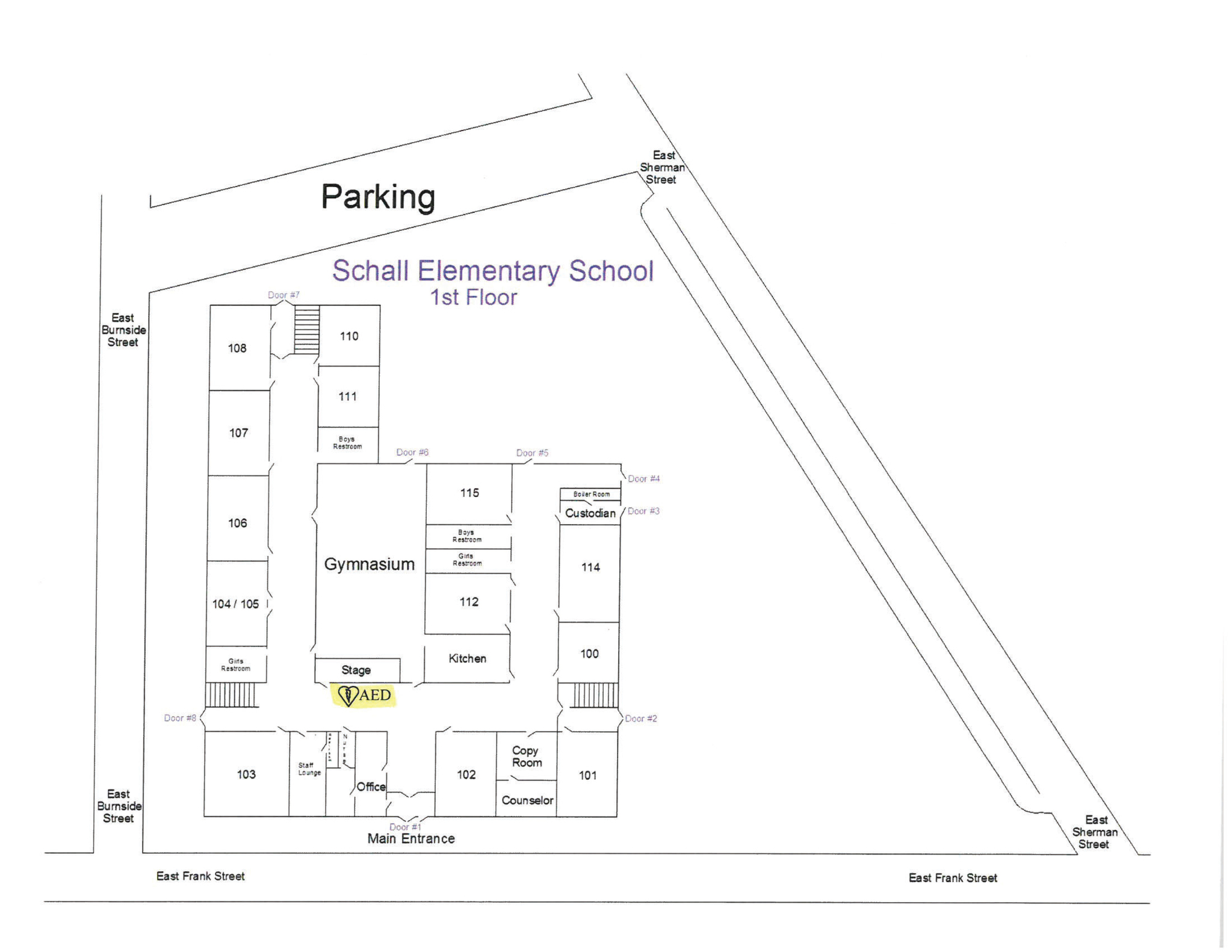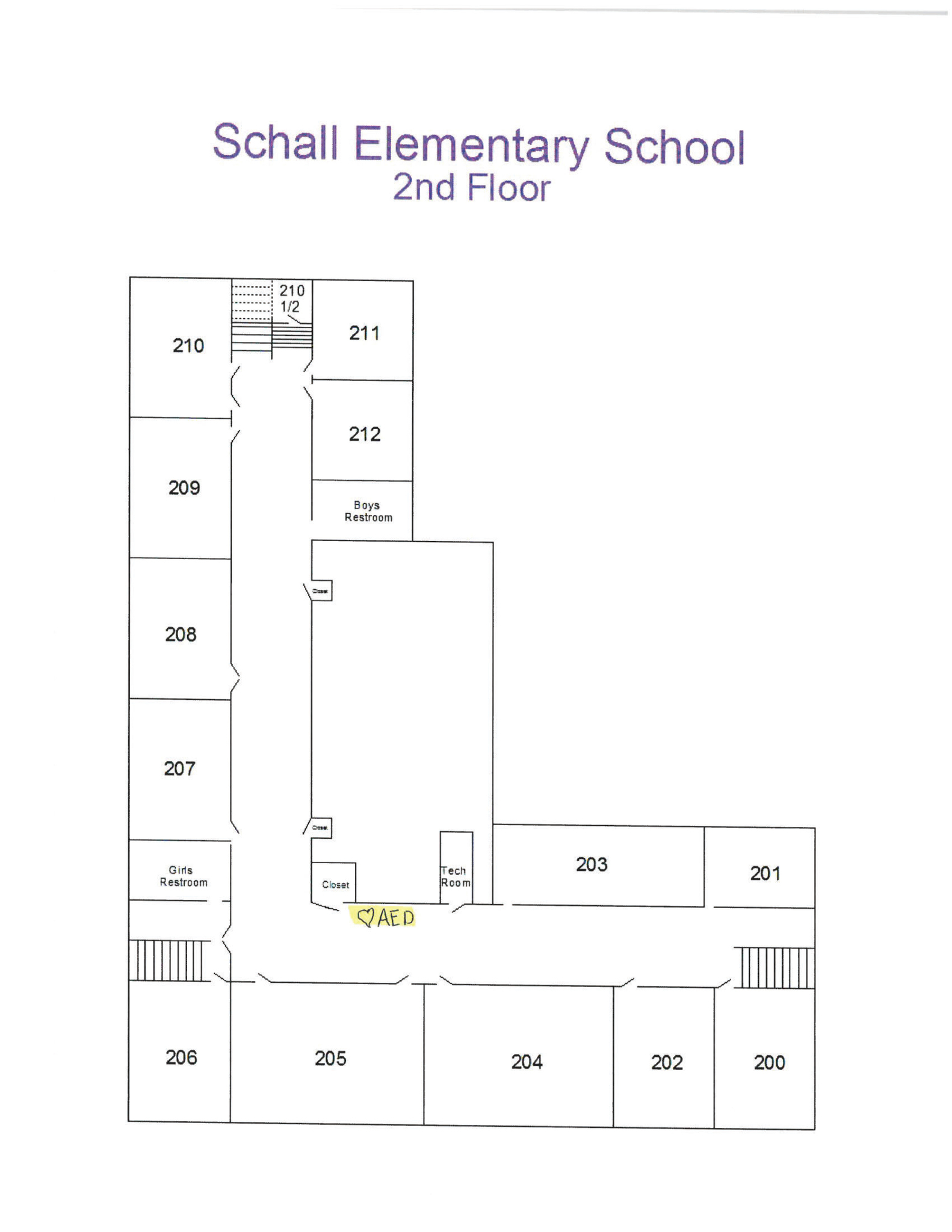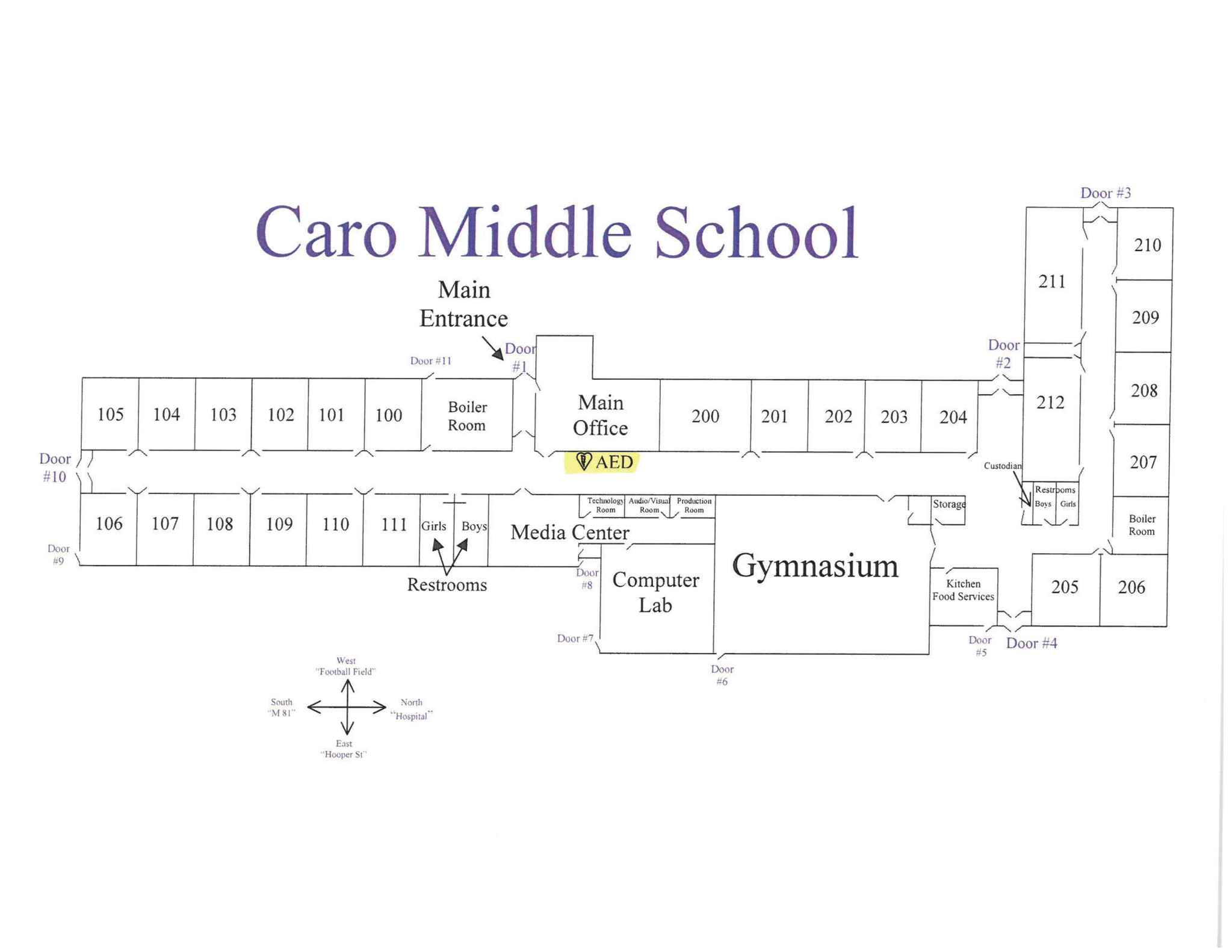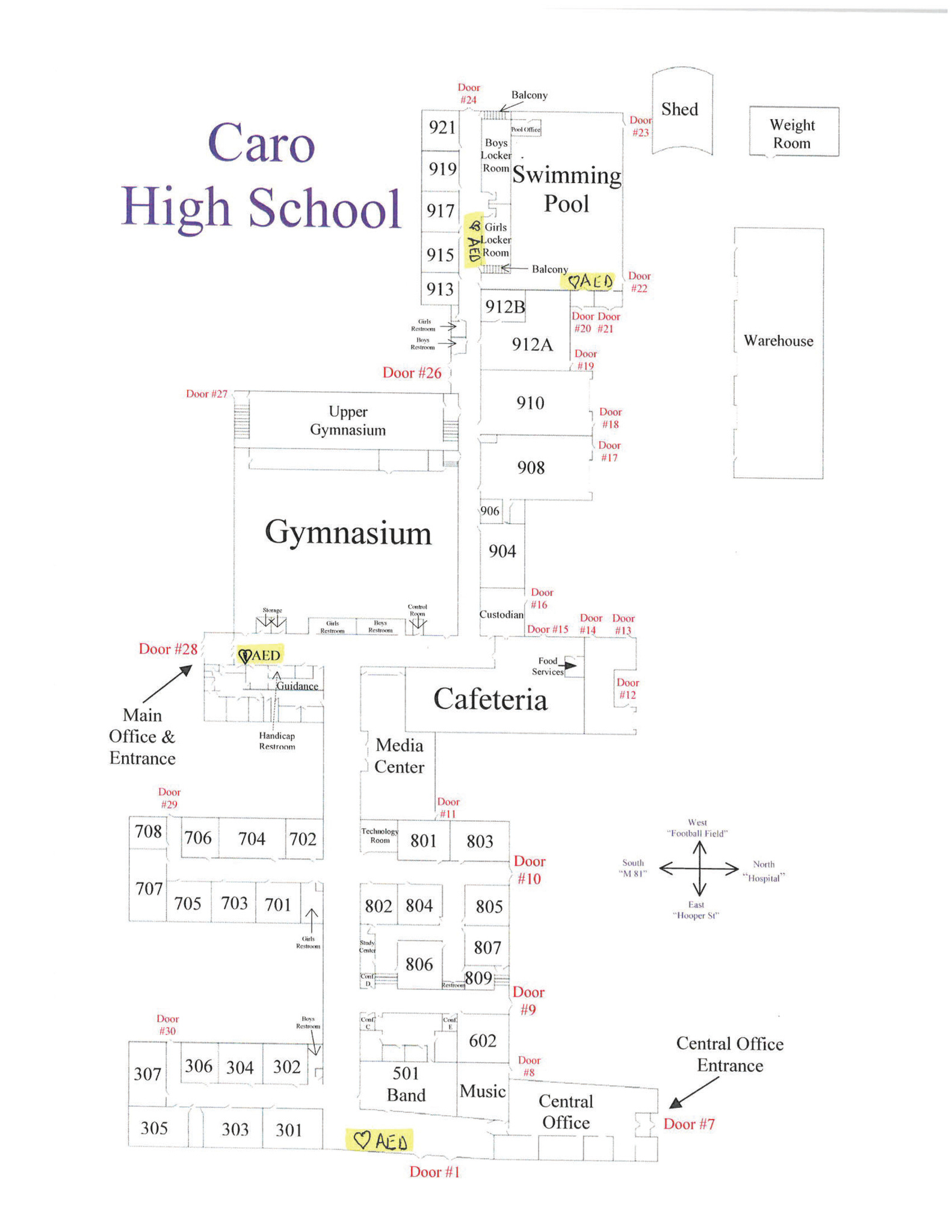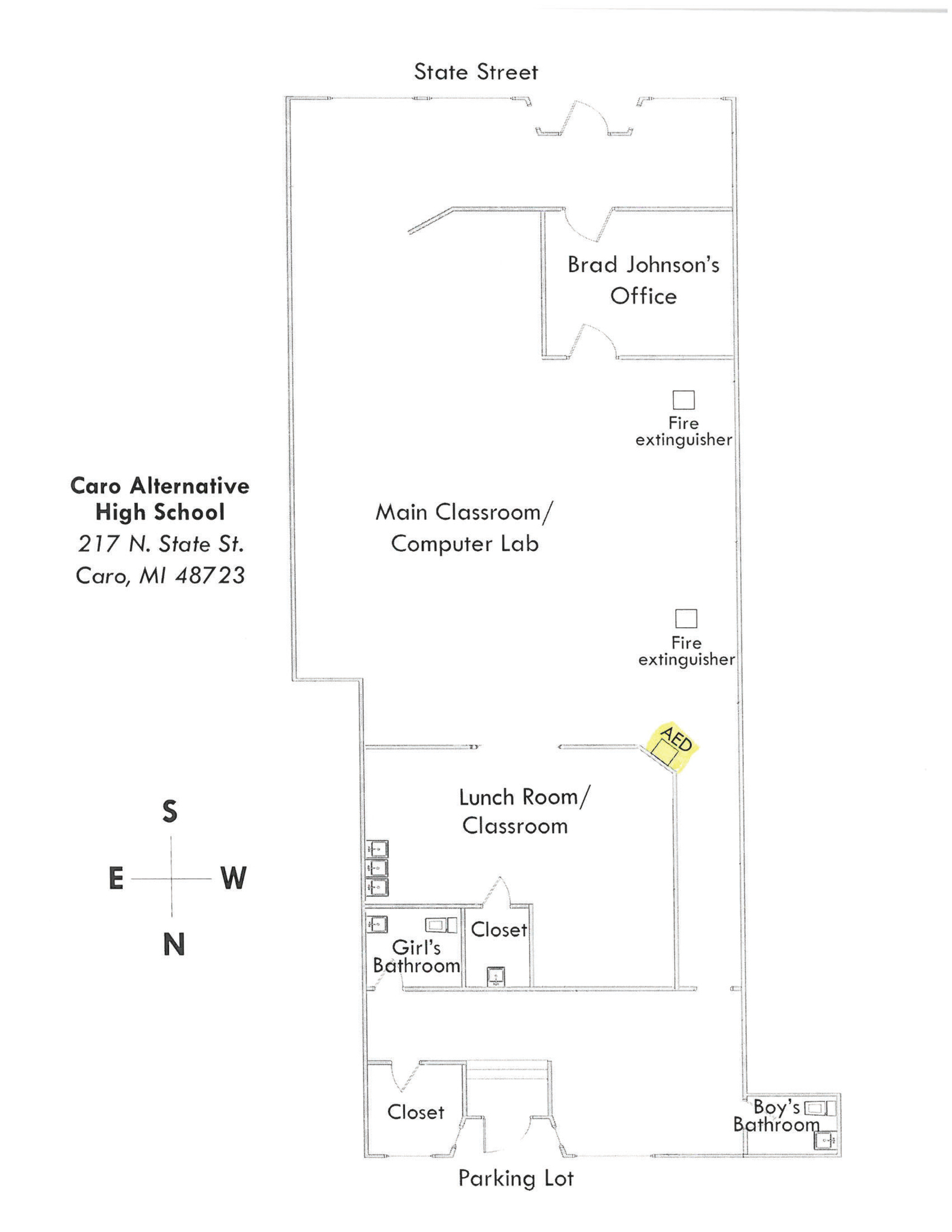 Facility Usage
Please read the guidelines below to see if your group is eligible to use CCS facilities. If you would like to make a reservation, complete and submit the online application on the right. Allow two weeks for processing. If you have questions, call Cheryl Ogg (989) 673-3160 ext. 1005 or e-mail cogg@carok12.org.
FACILITY USAGE GUIDELINES
I. GENERAL STATEMENTS
The Caro Board of Education encourages the use of its facilities by groups and organizations that have as their objective the development of personal character and civic welfare. The Board of Education reserves the right to deny the use of facilities for any purpose that is not consistent with the best interests of the community. The rules and regulations which follow are designed to provide community use of the school facilities to the extent that the regular school program will permit. Rental fees for facility use are on a cost, rather than a profit, basis.
II. FACILITIES OPEN TO RESERVATION
Facilities which may be reserved for use of community groups and organizations include: auditorium, classrooms, cafeterias, multi-purpose rooms, kitchens, gymnasiums, indoor pool, and athletic fields.
III. GROUPS ELIGIBLE FOR FACILITY RESERVATION
A. Class I: Any organized group directly connected with the Caro Community Schools. These groups include: athletic teams, band, FHA, varsity club, freshman-senior classes, student council, future teachers, evening classes, parent support groups, booster clubs, and all other such school related groups.
B. Class II: Any organized, non-profit group within the school district whose purposes are civic, cultural, fraternal, or religious in nature. This group includes, but is not limited to: Caro Arts Society, Caro Historical Society, Civil Defense, Tuscola County Extension, Lions Club, Jaycees, Rotary Club, Exchange Club, church youth and family groups, and other such groups. These groups will be allowed to use the buildings rent free (with the exception of the auditorium and pool) and will not be charged for custodial services when custodians are normally on duty. Class II groups will be charged for all custodial charges incurred after normal custodial hours.
C. Class III: Any non-profit groups whose interests or activities are limited exclusively to said group will be placed in Class III. Example: A service club having a fund raiser so as to build their own club house or church group having a fund raiser so as to purchase altar equipment. Use of school facilities for activities which result in personal or corporate gain will not be permitted.
Any Class II or III group renting or using the school for a major event will need to show proof of liability insurance with at least $1 million limit of liability.