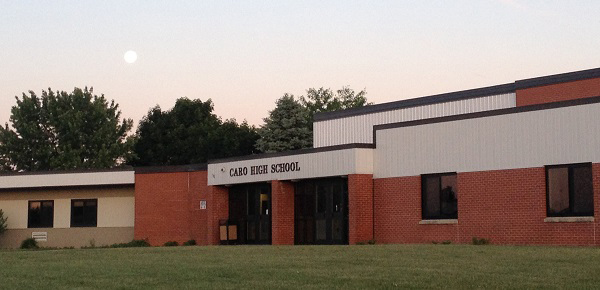 Mission Statement
We cultivate academic excellence in an environment that fosters physical, social, and emotional growth which empowers students to become responsible citizens in our community and in an ever-changing world.
Caro High School 2019-2020
Click on the link to access the CHS Fall Newsletter.

http://pub.lucidpress.com/CHStri1newsletter2019/
Caro Community Awards Generous Scholarships to Class of 2019
The graduating Class of 2019 was awarded approximately $55,000 is scholarship money on May 23rd at the Seniors Honors Program. The scholarship process starts in February for students and applications are filled out and essays written which are then submitted to each scholarship committee. Each committee has its own criteria for picking its winners, which are then announced at the Honors Program. Many organizations and individuals support the senior class by offering scholarships. They include: The Harry Bastone Memorial Scholarship, Angeline Bennick Memorial Scholarship, Dr. & Mrs. Earl Branding Memorial Scholarship, Caro High School teachers, Caro Rotary Club, Donald Carr Memorial Scholarship, Caro Education Association, Justin Decker Memorial Scholarship, Leigh Devault-Light Memorial Scholarship, Francis Freville Memorial Scholarship, Fraternal Order of Police, Harold Gates & Guy Way Scholarship, Peter Gorno Memorial Scholarship, Col. & Mrs. Fredrick Haase Memorial Scholarship, Jeff Jones Memorial Scholarship, Kiwanis Club, Living Waters Chapel, Caro Masonic Lodge, Clare McDurmon Scholarship, CHS Caro Participation, CHS Choir Vocal Music Major, Neal Sisters Memorial Scholarship, Are You Prepared? (Genevieve Griffin), Rolka Foundation, Stamats Scholarship, Dorothy VanAllen Memorial Scholarship, Frank Walden Scholarship, Anthony Walker Memorial Scholarship, CHS National Honor Society, Dr. Bruce Dunn Scholarship, the Fullmer Family, Olaf Goodell Scholarship, Bob Moore Memorial Scholarship, Scears Foundation, MSU Alumni group, McLaren Hospital-Caro Region, Frankenmuth Credit Union and Caro Exchange Club.
"I am always humbled and proud that our community comes together to support our seniors financially to help offset their college costs," said Lori Phillips, CHS guidance counselor. This can be a time consuming and overwhelming process for seniors, but the benefit they see in the end is worthwhile. If you are interested in starting a scholarship, contact Lori Phillips, at 989-673-3165 ext: 1112.
9/16/19
Monday, 9/16/19
SENIORS: Our first college recruiter visit will be on Wednesday, September 18 @ 10:30 am.  Lake Superior State University will be here with a brief presentation and to answer your questions about applying.  If you are interested in seeing the recruiter and you are not in Senior Capstone, sign up in the Guidance Office by Tuesday in order to get a pass. 
Students there is an opportunity for service hours. Due to the number of court members, football players, band members and cheerleaders in Student Council we have 14 open spots for traffic control during the Homecoming Parade. If you are interested please come to Mrs. Sira's room (303) to sign up. 
Key Club application forms and $13 membership fee can be turned in now through Friday, September 20th at 3:30 to Mr. Dodge in room 701.  You may pay in cash or by check made out to the Caro High School Key Club.
 Lifeguards wanted!  If you have your Red Cross certification in Lifeguard Training and are interested in working for Caro Community Schools at our indoor pool, check out the posting on the District website.  Applications are available in Central Office.
Seniors:  Have you done a lot of hours of community service?  The Prudential Spirit of Community Award application is available now at spirit.prudential.com.  Deadline is Nov 5.
Seniors:  Interested in checking out Lake Superior State (Ms. LaMarre's alma mater)?  They are hosting Open Houses on September 28 and October 12 for families. Register at lssu.edu
Today's lunch: Walking Taco or Popcorn Chicken
Caro High School
301 North Hooper St.
Caro, MI 48723
Phone: 989-673-3165
Fax: 989-673-8707
Annual Education Reports

CHS AER Cover Letter 2017-18


CHS Annual Education Report 2017-18

CHS AER Cover Letter 2016-17.pdf


CHS Annual Education Report 2016-17

Improvement Plans

HS School Improvement Plan 2018-19