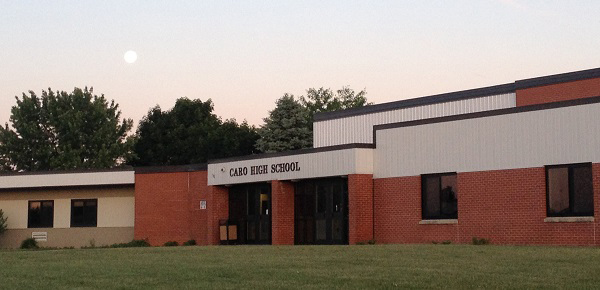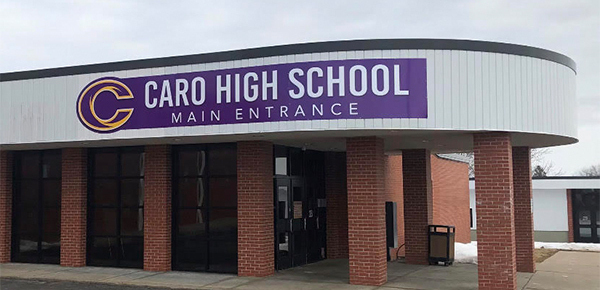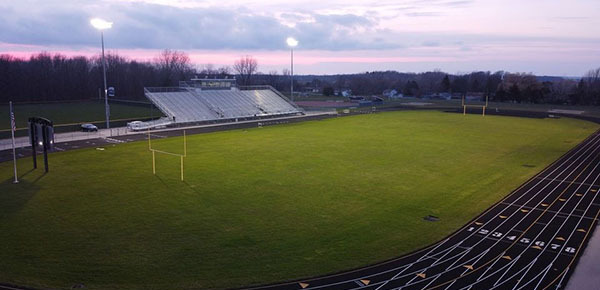 Mission Statement
We cultivate academic excellence in an environment that fosters physical, social, and emotional growth which empowers students to become responsible citizens in our community and in an ever-changing world.

Caro High School 2020-2021
05/06/2021
The High School is in person on Monday, Tuesday, Thursday, and Friday each week. Wednesday is a Virtual Day.
Today's Lunch: BBQ Pork Sandwich
Important Information:
Student Council is taking applications for members for the 2021-2022 school year!
You will find the instruction page and questionnaire linked here. The signature page will be
available outside Mrs. Sira's classroom when we return to school.
Please submit your questionnaire to the Google Form. The deadline for the application is
April 28th and the deadline for the signatures is Monday, May 3rd.
Google Form: https://forms.gle/Y18qeJvk87xwHz9E8
Instruction page:
 https://docs.google.com/document/d/1rpUsJyuO_FSUh8hV_8Ne_lZXiTvzZ
autE_bVXx8a1kA/edit?usp=sharing
Questionnaire:
 https://docs.google.com/document/d/1yFqu0C1tFWjWV1_5PJA1yiDSKnaFkz
fegK79LaeuAzM/edit?usp=sharing
Any questions can be emailed to Mrs. Sira at asira@carok12.org
Guidance Info:
Class Ring Info:
Below is a customized Herff Jones/Caro High School video, link to the website.
https://www.youtube.com/watch?v=vcmOZg884EE
Order your class ring today! highschool.herffjones.com
Any girl at least 17 years old who is interested in running for Michigan Bean Queen can
pick up an application packet in the Guidance Office. You do not need an agricultural
background and you could earn $1250 in scholarship money. 
Seniors - Contact the Guidance Office by Thursday this week if you are planning on
attending Delta College. Send an email or call us with your decision and your t-shirt
size. 
Sports Info:
Seniors - 4 YEAR ATHLETE AWARDS - If you have played any sports for all 4 years,
check the list on the Guidance Office door to confirm that our information is correct.
Contact Cara if you notice any errors. If you are still a virtual student and won't be in
the building to check the list, email or call Cara at extension 1113 to confirm. 
Employment Opportunities:
 Looking for a job: Saginaw Valley Seedcorn (Ed Mantey & Sons) is looking for part
time help. Applicants must be at least thirteen years old and have a social securitynumber. Apply online at www.svseedcorn.com Questions can be directed
to info@svseedcorn.com
 
Priscilla's Small Wonders is seeking a responsible childcare worker. Must be at least
18 years old. Fingerprinting, TB test, and online trainings must be completed. Hours
would be after school until 6:00.

Job Opening at Builders First. To apply follow the following
pathway.  www.bldr.com  Search by:  Req# 19528 or by location – Caro MI
After reading through and are still interested – scroll to the bottom and click on Apply
Now box.
You do not need to drive a forklift or have a diploma. Hours would be after school
until 5pm and Saturday's 8-noon. 
REMINDERS:
Parents- please screen your child before sending them to school. If they have a fever
or are not feeling well, please keep them home and call the office to let us know. 989-
673-3165.  Doors will open at 8:00am every morning. You will be screened as you walk in the
main doors. Please remove your hat before having your temperature taken. 
Breakfast will now need to be picked up in the cafeteria. You will take your breakfast
to your first hour classroom.
Stephan Clark

Principal
Dawn Blake

Secretary
Heather Wyckoff

Secretary
Connor Thomas

Athletic Director
Annual Education Reports
Improvement Plans
Emergency Operations Plan