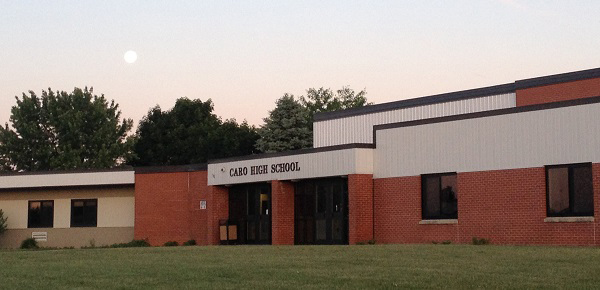 Mission Statement
We cultivate academic excellence in an environment that fosters physical, social, and emotional growth which empowers students to become responsible citizens in our community and in an ever-changing world.

Caro High School 2020-2021
************Remote Learning Resources************

Student Remote Learning Support Line
Call 989-673-3165 x1812 between 8a-3p Mon-Fri (closed from 12-12:30 for lunch).
Caro High School has been awarded College Board's Female Diversity Award for AP Computer Science Principles! Schools receiving this award have expanded women's participation in the course and closed the gender gap among students.

News Release
02/25/2021
Today's Lunch: Meatball Gravy     
Important Info: Please start bringing your own water bottle and use our filling station. Our water supplies are now limited, so please remember to bring a bottle with you. 
YEARBOOK:  Students in grades 9 -11 interested in designing, photography, writing short stories and making history, this is the class for you.  Join the 2021_2022 Yearbook class. Your work will forever be remembered by an annual publication.  Send an email to Mrs. Raymer @ mraymer@carok12.org or stop by room 704 by March 5th to let her know you are interested.  
Cominghome 2021 is almost here! Spirit week starts on Monday (2/22).  See the attached flyer for the spirit days!
Mickey/Minnie Monday- Wear your Disney gear!
Harry Potter Tuesday- Wear your class color! Seniors- Blue, Junior- Red Sophomore- Green, Freshman- Yellow
Mean Girls Wednesday: 'On Wednesdays we wear pink'
Austin Powers Thursday: Dress like a hippie! Groovy!
Friday Night Lights: Support your mens and womens basketball teams by wearing purple and white!

Although you may be at home you can still participate in Spirit Week! Use this Google Form link to submit your Spirit Week pictures!
https://forms.gle/MWUkaZFu8Mr44qpT7
Sports Info:
Anyone interested in playing Baseball this spring, Please stop into the office and sign up as soon as possible.  Info to join our remind group will be at the top of the sign-up sheet. Join our group so you receive all updates.  This will remain in the office until March 5th. 
Senior Apparel: Seniors who come to school need to see Mrs. Tuckey on one of their breaks or during lunch to sign their names and pick up an order form for their senior apparel! This needs to be done between now and Friday, February 26th for our face-to-face students! If you are a virtual student, you will need to come into the office any day between Monday, March 1st and Friday, March 5th to sign. You can also email Mrs. Tuckey at ltuckey@carok12.org to give permission for one of your friends who attends school in person to sign in your place. If you do not sign it by Friday, March 5th your signature will NOT be on the apparel!
REMINDERS:
Parents- please screen your child before sending them to school. If they have a fever or are not feeling well, please keep them home and call the office to let us know. 989-673-3165
Doors will open at 8:00am every morning. You will be screened as you walk in the main doors. Please remove your hat before having your temperature taken. 
Breakfast will now need to be picked up in the cafeteria. You will take your breakfast to your first hour classroom. 
Caro High School
301 North Hooper St.
Caro, MI 48723
Phone: 989-673-3165
Fax: 989-673-8707
Annual Education Reports
Improvement Plans
Emergency Operations Plan