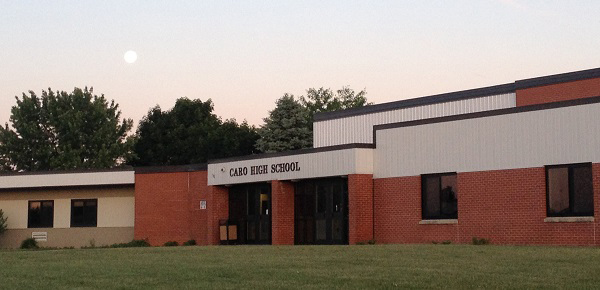 Mission Statement
We cultivate academic excellence in an environment that fosters physical, social, and emotional growth which empowers students to become responsible citizens in our community and in an ever-changing world.
Caro High School 2019-2020
Click on the link to access the CHS Fall Newsletter.

http://pub.lucidpress.com/CHStri1newsletter2019/
Caro Community Awards Generous Scholarships to Class of 2019
The graduating Class of 2019 was awarded approximately $55,000 is scholarship money on May 23rd at the Seniors Honors Program. The scholarship process starts in February for students and applications are filled out and essays written which are then submitted to each scholarship committee. Each committee has its own criteria for picking its winners, which are then announced at the Honors Program. Many organizations and individuals support the senior class by offering scholarships. They include: The Harry Bastone Memorial Scholarship, Angeline Bennick Memorial Scholarship, Dr. & Mrs. Earl Branding Memorial Scholarship, Caro High School teachers, Caro Rotary Club, Donald Carr Memorial Scholarship, Caro Education Association, Justin Decker Memorial Scholarship, Leigh Devault-Light Memorial Scholarship, Francis Freville Memorial Scholarship, Fraternal Order of Police, Harold Gates & Guy Way Scholarship, Peter Gorno Memorial Scholarship, Col. & Mrs. Fredrick Haase Memorial Scholarship, Jeff Jones Memorial Scholarship, Kiwanis Club, Living Waters Chapel, Caro Masonic Lodge, Clare McDurmon Scholarship, CHS Caro Participation, CHS Choir Vocal Music Major, Neal Sisters Memorial Scholarship, Are You Prepared? (Genevieve Griffin), Rolka Foundation, Stamats Scholarship, Dorothy VanAllen Memorial Scholarship, Frank Walden Scholarship, Anthony Walker Memorial Scholarship, CHS National Honor Society, Dr. Bruce Dunn Scholarship, the Fullmer Family, Olaf Goodell Scholarship, Bob Moore Memorial Scholarship, Scears Foundation, MSU Alumni group, McLaren Hospital-Caro Region, Frankenmuth Credit Union and Caro Exchange Club.
"I am always humbled and proud that our community comes together to support our seniors financially to help offset their college costs," said Lori Phillips, CHS guidance counselor. This can be a time consuming and overwhelming process for seniors, but the benefit they see in the end is worthwhile. If you are interested in starting a scholarship, contact Lori Phillips, at 989-673-3165 ext: 1112.
Caro High School senior, William Warren, son of Tim and Michelle Warren, has been named a Semifinalist in the National Merit Scholarship Program. Nationally, approximately 16,000 Semifinalists were named in this competition and are vying for 7,600 National Merit Scholarships worth more than $31 million that will be offered next spring.
To be considered for a Merit Scholarship® award, Semifinalists must fulfill several requirements to advance to the Finalist level of the competition. Over 90 percent of the Semifinalists are expected to attain Finalist standing, and about half of the Finalists will win a National Merit Scholarship, earning the Merit Scholar® title.
Over 1.5 million juniors in about 21,000 high schools entered the 2020 National Merit Scholarship Program by taking the 2018 Preliminary SAT/National Merit Scholarship Qualifying Test (PSAT/NMSQT®), which served as an initial screen of program entrants. The nationwide pool of Semifinalists, representing less than one percent of U.S. high school seniors, includes the highest-scoring entrants in each state. The number of Semifinalists in a state is proportional to the state's percentage of the national total of graduating seniors. To become a Finalist, the Semifinalist and a high school official must submit a detailed scholarship application, in which they provide information about the Semifinalist's academic record, participation in school and community activities, demonstrated leadership abilities, employment, and honors and awards received. A Semifinalist must have an outstanding academic record throughout high school, be endorsed and recommended by a high school official, write an essay, and earn SAT® or ACT® scores that confirm the student's earlier performance on the qualifying test.
From the approximately 16,000 Semifinalists, about 15,000 are expected to advance to the Finalist level, and in February they will be notified of this designation. All National Merit Scholarship winners will be selected from this group of Finalists. Merit Scholar designees are selected on the basis of their skills, accomplishments, and potential for success in rigorous college studies, without regard to gender, race, ethnic origin, or religious preference.
National Merit Scholarship winners of 2020 will be announced in four nationwide news releases beginning in April and concluding in July. These scholarship recipients will join more than 345,000 other distinguished young people who have earned the Merit Scholar title.
Lori Phillips, CHS Guidance Counselor, said of William, "he is young man with a bright future. His values and high moral principles are a compliment to both William and his family. High school is only a stepping-stone to the future, and he will no doubt continue to make CHS proud of his future achievements." William plans to study Chemical Engineering and has applied to Yale, MIT and the University of Michigan.
11/11/19
Monday, 11/11/19
There will be a Wrestling meeting on Thursday, November 14 at 4:00. Please make sure to sign up in the office if you are interested in being on the team. 
NHS will be having a meeting on Tuesday, November 12th at 7:45 in the auditorium.  Please fill out the form on google classroom by the end of the day Friday.
Tickets are now on sale for the Music and Theatre Departments  production of Once Upon a Mattress in the high school  guidance office! The show will be performed at 7:30 p.m. on Thursday, Friday and Saturday November 21, 22, & 23.  Tickets purchased in advance are only $8 or $10. Buy now for the best seats!  
Who wants to make a little extra money or earn your community service hours?  Tutors are needed, so pick up an application in the Guidance Office.
 ****SENIOR ANNOUNCEMENTS/SCHOLARSHIP SECTION
SENIORS!!! Class of 2020 your senior and baby pictures are due Monday, DECEMBER 16, 2019.  The picture may be sent digital to mraymer@carolk12.org or you may bring a wallet size to room 704.
Today's lunch: Calzone or Chicken Fajita
Date Change for Wrestling meeting
DATE CHANGE! The Wrestling meeting has been rescheduled. It is now  on
WEDNESDAY, November 13 at 4:00.
Caro High School
301 North Hooper St.
Caro, MI 48723
Phone: 989-673-3165
Fax: 989-673-8707
Annual Education Reports

CHS AER Cover Letter 2017-18


CHS Annual Education Report 2017-18

CHS AER Cover Letter 2016-17.pdf


CHS Annual Education Report 2016-17

Improvement Plans

HS School Improvement Plan 2018-19