Transportation Highlights
Our district owns, operates, & maintains 16 buses, 5 vans, 2 pick-up trucks, and 2 food service box trucks.
We service & maintain additional buses & vans for the Tuscola Intermediate School District and for the Akron-Fairgrove Schools.
We transport daily approximately 975 students to & from school, including pre-school Play Pals, High School students for the Tuscola Technology Center, as well as transition program students.
Our vehicles travel around 155,000 miles annually.
Work in the transportation department is handled by a staff of over 28 part time drivers, two mechanics, a secretary, & three combination shuttle drivers/office staff/dispatcher.
Caro Community Schools is also an approved Third Party Examiner through the Michigan Secretary of State's Office.
We conduct testing for automobiles, motorcycles & Commercial Driver's Licenses from sites in Caro and Marlette.
Safety is the primary goal for our staff.
General Bus Rules
"Don't lose your riding privilege!"
Positive Behavior Support (PBS) - A school wide support program for our students!
Be Safe
Be Respectful
Be Responsible
FOLLOW THESE RULES . . .
- Observe same conduct as in the classroom.
- Be courteous, use no profane language.
- Do not eat or drink on the bus.
- Keep the bus clean.
- Cooperate with the driver. Follow their instructions.
- Do not be distracting.
- Do not be destructive.
- Stay in your seat.
- Keep head, hands, and feet inside the bus.
- Bus driver is authorized to assign seats.
- School rules apply to the bus.
Bullying is not tolerated in the school or on the bus. Prevention is the responsibility of all students where adult supervision is limited. We must work together to keep us all safe from bullying. If you see something, say something. Click on the link below to learn more about how you can help.
https://www.transfinder.com/resources/school-bus-bullying-prevention
Safety
Safety is Priority . . .
It is necessary for parents and guardians to support school safety rules and help their youngster to abide by them, for their own safety as well as for the safety of others.
Student management on the school bus is probably the biggest problem facing school bus drivers today. As in the classroom, student management on the bus is an important issue. There are, however, some major differences. Unlike the classroom teacher, the school bus driver has her/his back to the students. Unlike the classroom teacher who has 20-30 students, the bus driver has 50-65 students.

A bus driver must control thousands of pounds of steel, glass and rubber as they drive through traffic in varying road conditions. The school bus driver is constantly aware that a single lapse in concentration could result in a serious accident and possible injury or death to students on board the bus or to persons off the bus. To avoid distractions, it is imperative that the students be in control at all times.

Please work with your child to follow a few basic rules:
1) Stay seated facing the front of the bus;
2) Do not bother others; and
3) Use classroom behavior while riding the bus.

If your child is new to riding the bus, please contact the Transportation Department for further information. Support the decision and the authority of the bus driver, as we all want a safe trip to and from school.
Transportation About Town...
June 25, 2018
2017 Tuscola County Pumpkin Festival
Congratulations to the Entry: "Ellie" The Elephant
... as designed by Transportation Staff Ann Westover and Brenda Stein, with assistance from staff Matt Cooper and Sonja Rajkovic-Bennett.  Ellie took first place in our parade category... but did not receive any special award... HOWEVER - Ellie was a Grand Prize winner in our hearts!! 
June 25, 2018
Gingerbread School House - Congratulations for the 3rd Place Finish!!
The Transportation Department's entry for the Parade of Lights during Caro's Gingerbread Festival, December 2008. A special thanks to Shirley Schaefer, for her designing of the float, and the work done by Shirley, Zetta Wilson, Jared Bush, Pat Price, Sonja Rajkovic, Jackie Riley, John Riley, and the support from the Caro Bus Drivers Association.
June 25, 2018
My - My... how times change...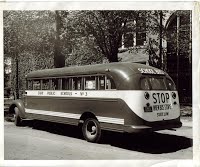 This Caro School Bus is from our fleet in 1946. The color of this bus was not the traditional 'yellow' but was actually Red, White & Blue. Anyone who might have information on the color sequence, please feel free to contact us at (989) 673.7718.
June 25, 2018
The Gingerbread Village Parade of Lights
Caro Community School's Transportation Departments entry into The Gingerbread Village Parade of Lights in Caro on December 8, 2007. We would like to extend thanks to those who helped with this project; Charlie Witkovsky, Shirley Schaefer, Zetta Wilson, Chuck Altizer, Sonja Rajkovic, Jared Bush, Jill Riley, Jackie Riley, and John Riley.
Winter Weather Notice
Please dress your children for winter weather conditions. Occasionally a bus may break down, or become stuck, at which point you will want your children dressed/prepared for colder weather.

Helpful winter weather driving tips
Auto Emergency Preparedness Kit Checklist
Plan long trips carefully,
listen to the radio or television for the latest weather forecasts and road conditions.
Auto Emergency Kit – Recommended Supplies:
Jumper cables flares or reflective triangle
Flashlights with extra batteries
First aid kit: remember any necessary medications, baby formula and diapers if you have a small child
Food: non-perishable food such as canned food, and protein rich foods like nuts and energy bars
Manual can opener
Water: at least 1 gallon of water per person a day for at least 3 days
Basic toolkit: pliers, wrench, screwdriver
Radio: battery or hand cranked
Cat litter or sand: for better tire traction
Shovel
Ice scraper
Warm clothes, gloves, hat, sturdy boots, jacket & a change of clothes for the cold
Blankets or sleeping bags
Charged cell phone and car charger
Help sign
Examples of Documents Needed for Road Tests