McComb Elementary Points of Pride
Points of Pride

View Archives
Students Have Hands-on Science Education
McComb Elementary had their annual hands-on science education. Tiger Cubs had a personalized, interactive classroom presentation with live reptiles, amphibians, and mammals. Science Alive brought the study of science to "life" for students. We have future scientists in the making. Thank you to our PTO for funding this event!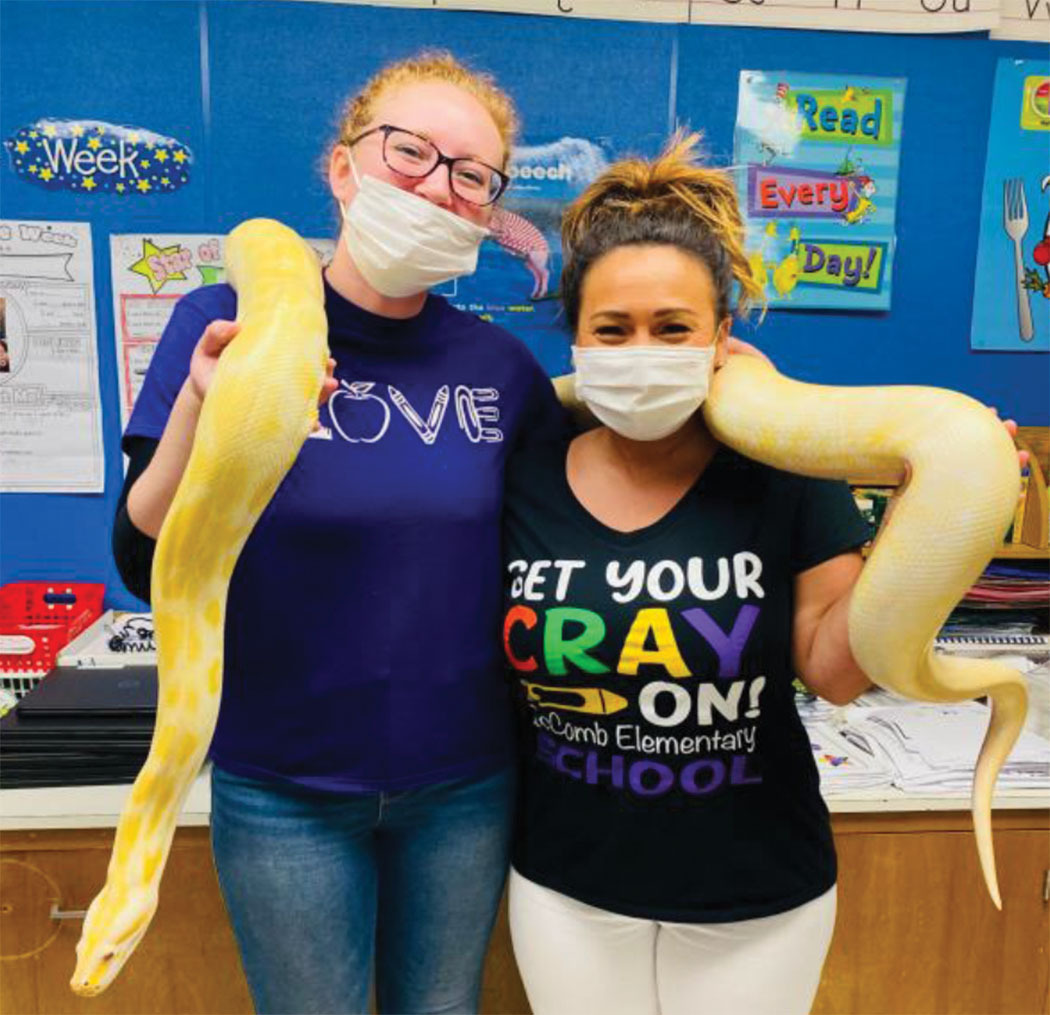 McComb's Students of the Month for April 2021
Young 5s: Lennon Potchynok and Benton McNeil
Kindergarten: Top Row: Aubree Smiley, Gray Mitchell, Lillian Rush, Easton Cook, & Pierce Eyer. Bottom Row: James Wilson, Aiden Phillips, & Emersyn McComb. Missing from photo: Scarlett Ney & Emma Dibble.
First Grade: Top Row: Jaxen Groosbeck, Kaylee Strommen, Izzy Bracken, & Xander Garner. Bottom Row: Gwyneth McNeil, Jemarr Watkins Jr., Asher Felice, Lucas Allen & Kyree Ruppert. Missing in photo: Charlotte Criss.
Second Grade: Top Row: Bryce Pringle, Taytum Szcygiel, Aiden Green, Claire Guigar, & Liam LaNava. Bottom Row: Sophie Englemann, Bentley Sakon, Maggie Allbee, Drake Skinner, & Aubriella Kitchen.
McComb's March 2021 Students of the Month
Young 5s: Griffin Greenway and Madilynn Haslett
Kindergarten: Top Row: Jaden Cregar, Allie Payton, Adelyn Dufresne, & Iliza Lopez. Bottom Row: Lumen Bergman, Nolan Downing, Reagan Hodgkinson, & Hayden Harvey.
First Grade: Top Row: Ella Zamora, Mia Kirk, Mason Tippett, Auriella Milton, Oliver Pearcy, & Easton Sprague. Bottom Row: Layla Richardson, & Gracie Hahn.
Second Grade: Top Row: Brentlee Fry, Brody Middaugh, Nicollette Anger, Jack Geiger, & Zoeyjane Tumblin. Bottom Row: Logan Radley, Aria Bommarito, Theodore Dievendorf, Willow Garza, & Syrin Sherd.
Students Recognized for Good Listening in February 2021
McComb Elementary is proud of the following students who were recognized as Students of the Month for February. These students were nominated by their teachers for showing good listening skills. Congratulations, Tiger Cubs. Keep up the good work.
2nd grade
Top row: Kaisen Garza, Cali Reed, Taylen Turner, Isaiah Malcolm, Damion Steiner
Bottom row: Jemari'A Watkins, Zoe Wright, Ellyanah Morell, Peyton Maguire, Wayne Seeley
1st grade
Top row: Isabella Crossno, Alaric Radley, Sophia Will, Silas Gibson, Matthew Mendez-Holman
Bottom row: Isabel Lopez, Colson Wegner, Jacqueline Loney, Harper Schlaud, Jacob Krzewinski
Kindergarten/Young 5s
Top row: Kassidy Trisch, Chloe Dutcher, Makenzie Elenbaum, Parker Romain, Amelia Fowler, Henrik Johnson
Bottom row: Mary Skinner, Walker Hutchinson, Camden Smiley, Greyson Hill, Amaryllis Nichol, Magglio Garza
Celebrating the 100th Day of School
Monday, February 8th, 2021, was the 100th day of school. We invited Mr. Newman in to count to 100 in each classroom. He wore an inflatable dinosaur costume while "hunting for hundreds" at McComb Elementary!
Hats off to Colt
Colt, a Young 5's student, noticed a classmate was cold at recess. Colt went home and asked if he could use his birthday money to purchase a hat for the child. His mother said she would buy the new hat and that it was so thoughtful of Colt to think of others. Colt brought the hat to his new friend the next day and now they are forever friends! Hats off to Colt!